Star Trail Image Stacking
After looking at the amazing work of photographer Harold Davis and in particular the series of Star Trail photographs he manages to produce, I had to give it a try …
I followed his technique, captured a series of frames and when I got back home, found myself having to add manually all the images as layers in Gimp, turn the layer mode of the layers (except the first one) to Lighten Only and decided that I would rather spend the time writing a script to automate the process … and here it is !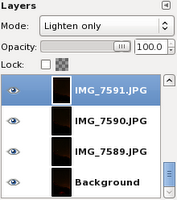 Usage: createStack.sh [OPTION] DIR
-k            Display progress information with kdialog
-h            This help
This is very simple to use !
Just pass a directory name as a parameter and all the images within this folder will be added to an XCF file. All layers except the bottom one will have their Layer Mode set to Lighten Only.
Here's the first image I was able to produce using this technique:
Optionally, if you're running KDE, you can copy the attached .desktop file to the folder services/ServiceMenus of your kde4 install and you'll end up with a contextual menu when you right mouse click on a folder from your file explorer …
On my machine, the file is /usr/share/kde4/services/ServiceMenus/vinceStack.desktop
The latest version of the script can be downloaded from the attachments section at the left of this page !
If you like this script, feel free to leave a comment !
If you run into problems, you can send me an email at photo@tassy.net and I'll help you out.
This software is licensed under the CC-GNU GPL version 2.0 or later.